Factory-Authorized Service Center
Rivertown Ford is home to one of the finest selections of new and Certified Pre-Owned Ford vehicles in the area, not to mention our impressive inventory of pre-owned vehicles from a variety of major manufacturers. To top things off, Rivertown Ford also offers a factory-authorized service center. Our factory authorization means that our service center needs to meet and hold to an extremely high standard set by Ford.
Come into the service center at the Rivertown Ford dealer today.
Trustworthy Auto Repair
When you have an authorized service center that uses genuine parts, you know the auto repair work is going to be top-notch. This is certainly the case at the Rivertown Ford service center. In addition to the factory authorization and genuine parts, we only employ certified technicians to ensure quality repair work.
Give your vehicle the best of care at the Rivertown Ford dealership — Columbus, GA's preferred destination for trustworthy auto repair.
Convenient & Quick Oil Change Service
Oil change services are perhaps the most important routine maintenance service. There are many quick lube shops in the Columbus area that specialize in oil changes. At Rivertown Ford, we can take care of oil change services and any other service or repair your vehicle may need. Quick lube shops may not be able to fix or service everything.
If you require an oil change service, bring your vehicle into Rivertown Ford today.
Rivertown Ford
Mon - Fri

7:30 AM - 6:00 PM




Sat

8:00 AM - 6:00 PM




Sun

Closed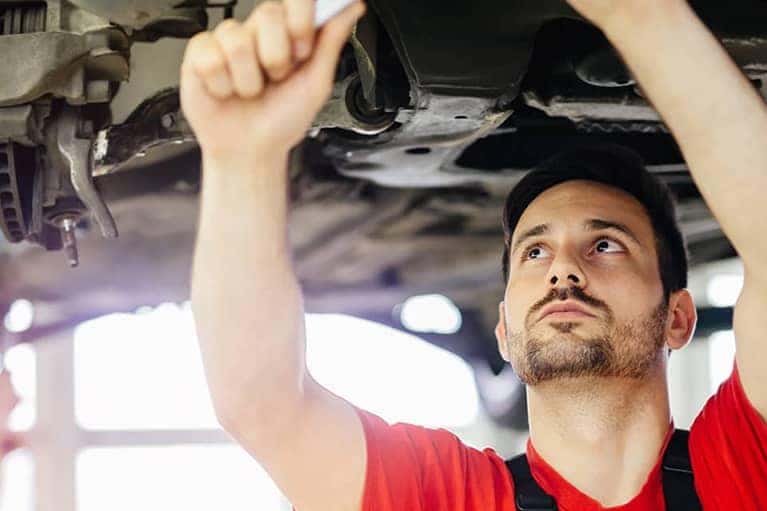 Fully Certified Mechanics
All the automotive technicians on staff at Rivertown Ford are trained and certified according to Ford's rigorous requirements. Our techs also hold certifications from many respected organizations in the automotive industry, which qualifies them to work on vehicles from other major manufacturers. If you go to an unauthorized shop, there's no way of knowing what sort of training the mechanics have received, if any.
Schedule a service appointment with our certified technicians at Rivertown Ford today.
Check Out Our Tire Selection
Rivertown Ford has an expansive selection of quality new tires. Our tires will fit the current Ford model lineup and many other vehicles from major manufacturers. If you're driving around on worn tires, your vehicle may be suffering from decreased performance and traction. Fix this problem by getting the perfect set of new tires at our service center.
Find the perfect tires for your vehicle in Rivertown Ford's inventory today.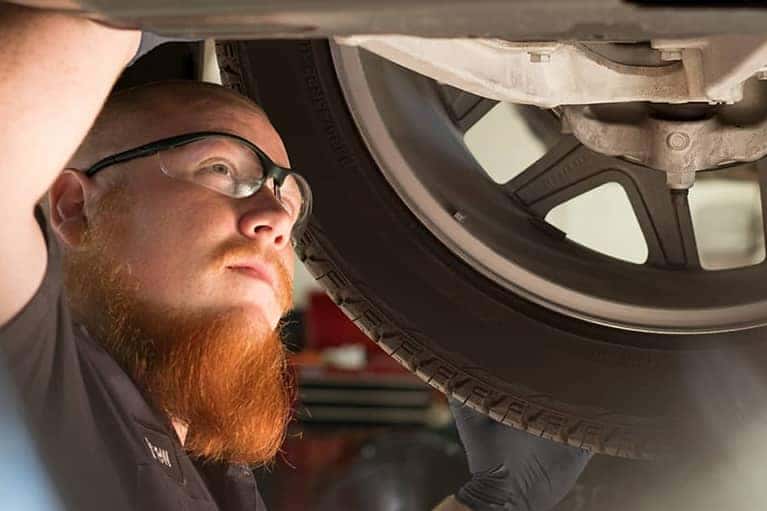 Get An Alignment Today
Improperly aligned wheels can result in decreased fuel efficiency and faster tire wear. An alignment is a quick and easy service at a service center like Rivertown Ford. Get an alignment today, and you'll notice the difference immediately.
Chances are, your vehicle could use an alignment. Drivers in Phenix City, AL, Fort Benning, GA and elsewhere in the Columbus, GA area can get this service completed the right way at Rivertown Ford today.
Genuine Ford Parts
As a fully-authorized service center, Rivertown Ford has access to genuine Ford parts. Many other service shops may not have the factory parts that your car needs to ensure peak performance. If you want the highest level of service for your Ford vehicle, factory parts are the way to go.
If you've been searching through Columbus, GA car dealerships for genuine Ford parts straight from the factory, your search ends at the Rivertown Ford service center.
Keep Your Brakes In Tip-Top Shape
As you no doubt already know, properly functioning brakes are vital for safety. However, many drivers do not maintain their vehicle's brakes properly. Keep your brakes working properly by bringing your vehicle into the Rivertown Ford service center today for maintenance and repair.
Visit the Rivertown Ford service center today to have our technicians maintain and repair your brakes.
Recharge Your Vehicle With A New Battery
A new battery can improve your vehicle's performance and efficiency. Even if your old battery is still working, it may be keeping your vehicle's engine from operating optimally. Get a new battery before your old one fails and experience the difference in your car's performance.
Charge up your vehicle with a new battery from Rivertown Ford today.
Rivertown Ford
1680 Whittlesey Road
Columbus, GA 31904
Sales:
706-641-6886
Service:
706-653-7421
Parts:
706-653-7422
Directions